Thinking about renovating your kitchen? There are so many options these days, so unless you've got your heart set on a specific style already, exploring the range of possibilities is a great idea to discover the best choice for you. The kitchen is, after all, one of your most frequently used rooms — obviously you want to love the space you'll spend lots of time in.
Toledo homeowners are an eclectic bunch. Every kitchen renovation we've helped with throughout Northwest Ohio is a unique project, with customers drawing inspiration from an array of styles: country farmhouse, old world, contemporary, sleek, traditional and anything else you can think of.
Kitchen Design Plus is all about matching your taste with the style that fits you, your lifestyle and your space. And one of our favorite brands we carry is Homecrest Cabinetry. By exploring these top design styles, you'll hopefully come away with some pretty creative kitchen renovation ideas. Let's get started!
Contemporary Design Style
"At First Sight" — Ogilby | Maple Terrain with Ebony Glaze
When you have to remind yourself to breathe, that's when you know — you've found The One. A space you can organize your life around, with just the right personality and functionality. Oh, heart be still.
It's all about contrast in this kitchen with Maple cabinets. Bold lines and simple detail on these Ogilby cabinets play nicely against the rich grain of the floor. Warmth emanates from all the wood while stark white counters and contemporary stainless accents keep things lively and modern. Ebony cabinet glaze adds a deep, rich definitive outline to Maple door and drawer front profiles.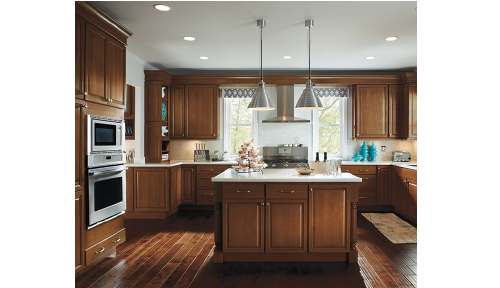 Casual Design Style
"Basics Training" — Lautner | Maple Sand Dollar with Brownstone Glaze
The dust settles. The sun appears. And you find yourself at peace in a space of your own making — surrounded by everything you need (and nothing more) to conquer your to-do list another day.
Take one look at this kitchen, and there will be no doubt that it's possible to have a room that is both the height of fashion and your sanctuary at the same time. Creamy glazed cabinets and warm wood floors in soothing colors join seamlessly with subtle architectural accents, farm sink and large sunny window to beckon happy family moments or that quiet moment alone with your morning coffee. Maple Sand Dollar, a cool gray-white cabinet color, looks amazing on its own in a variety of settings, and it also pairs beautifully with both wood tone finishes and other, darker cool opaque's.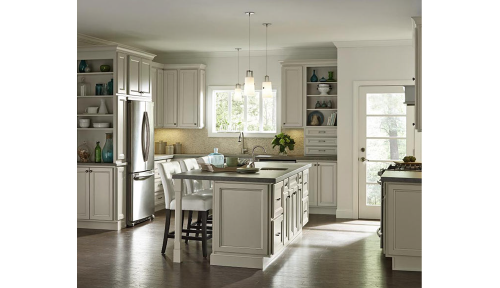 "Neutral Party" — Hershing | Cherry Buckboard & Maple Alpine
What does one wear to a celebration of simplicity? Cabinetry with a deep, rich accent finish contrasted against cool neutrals are in. Loud colors and excessive accessorizing: definitely out.
A large white kitchen island with plenty of seating means you may find all your parties taking place in your kitchen. Whether the island is set for breakfast, providing a buffet or acting as a prep station where guests can help while you orchestrate the evening, it's a welcome addition to this casual kitchen with dark cherry cabinets. Cherry Buckboard cabinet finish is ripe with earthy and natural tones that bring sophisticated warmth to today's kitchens.
Polished Appliances Stainless steel commercial appliances have a sleek, industrial appearance, allowing them to complement the glistening and minimalist style of a contemporary kitchen. Many appliances also feature polished curved or embowed vent hoods, which enhances the kitchen with subtle geometric accents. Other appliances such as ovens, stoves, and dishwashers contain sleek control boards and lighting structures to heighten the
kitchen's modern layout.
"Turn the Corner" — Brenner | Maple Willow
You dream. You plan. And plan some more. Until you realize you don't need to cut corners on quality to afford lasting beauty and a lifetime supply of organization space. How? Just be creative with your corner cabinets. Onward.
With a dark floor to ground it, this airy, elegant kitchen has both an intimacy and an openness that give it a showpiece quality. The soft colors and crisp, clean lines of these gray kitchen cabinets in Willow make it comfortable to work in while traditional lighting choices add a hint of elegance. Willow is an opaque finish in a true, soft gray cabinet color that brings out the best of Maple door styles without stealing attention away from the rest of the room.
Traditional Design Style
"Universal Made Inspirational" — Heartland | Cherry Cinnamon with Ebony Glaze
Let's live to the best of our abilities rather than beyond our means. Let's trade drab and dated for warm and comfortable. Let's turn our houses into havens. And live more richly with less.
Put a contemporary spin on a traditional style by making a non-traditional hardware choice. Simple, brushed nickel knobs give a nod to modern sensibilities while glazed Cherry cabinets in our Heartland door style keep your kitchen feeling timeless. Heartland raised panel cabinet doors inherit the sense of agelessness found in the Heritage door style, while also maintaining your budget.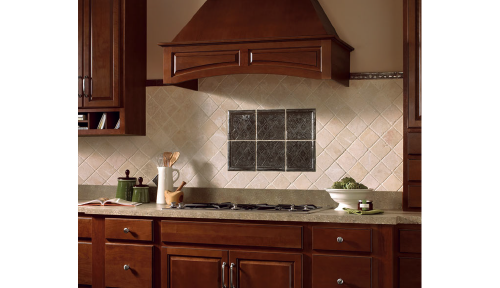 So what do you think? Did your imagination run wild with these fresh, imaginative approaches to kitchen redesign? If these Homecrest Cabinetry kitchen styles have you feeling inspired, give Kitchen Design Plus a call so we can make your kitchen dreams a reality. We're ready when you are!
You can reach us at 419.536.6605 or send us a message.