We all know how it feels to start a new project. You're so excited at the beginning — imagine all the possibilities! — that when the actual process is about to begin, the excitement turns to anxiety.
What if it doesn't turn out the way it's supposed to?
Calming the new-project jitters
Our clients will sometimes have those same fears or doubts as we begin a design project, and that's completely normal!
It's why they call it a project: in their minds, they're projecting an idea of what it should be once it's done. And it's, well, a process to get from start to finish.
When clients come to us for a kitchen or bath design project, it's usually because they are building a house, they just purchased a new house or they're just looking to upgrade their current house.
And a kitchen or bath design or remodel is a commitment of time and money.
That's why we make sure to inform each client about our design process early on. We go over with you how we'll work together to make your idea come to life — we set clear expectations of our shared goals so we can track our accomplishments each step of the way.
So when we've put in all the work, we'll both be beyond happy, Your satisfaction is ours, too.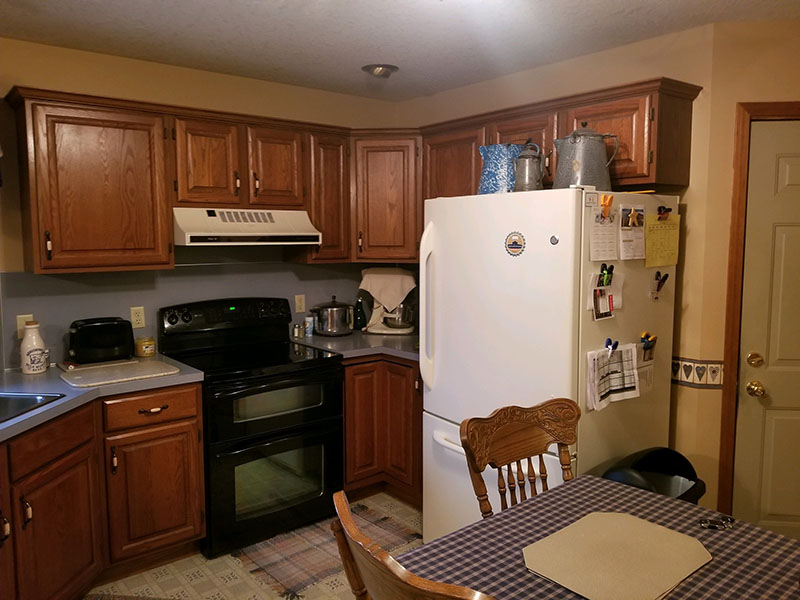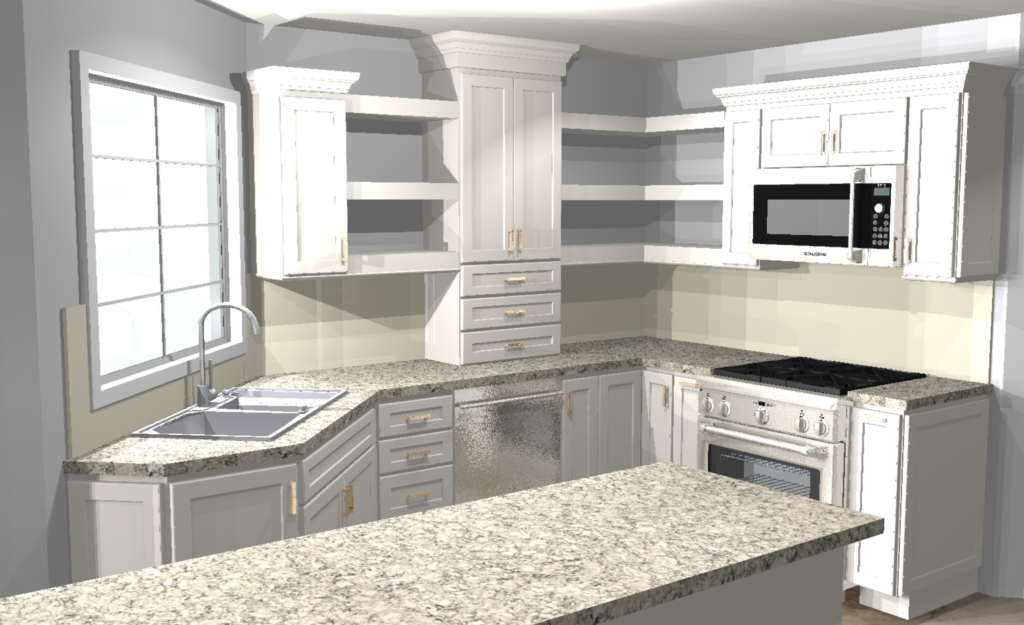 Kitchen Design: It's a Process
My goal with each design project is to walk you through a typical one so that there are as few unknowns as possible.
Sure, unforeseen things can and do happen, and new decisions have to be made along the way sometimes. But if we look ahead and plan together, we can steer clear of the common roadblocks people often hit.
Take a look at my process below. I'm going to use a recent kitchen design project I worked on to show you how I anticipate common client anxieties about redesigns — and how I work with you to accomplish our goals.
Get to know your designer.
When you're embarking on a new kitchen or bath project, it's always important to get on the same page with your designer. And they want to know you!
You'll find that they're a designer for a reason: They love designing beautiful living spaces.
Take me, for example.
My name is Faith, and I've been in the cabinetry and building products industry for over 26 years — with both a kitchen and bath design firm and with a major cabinetry brand manufacturer as a product design and development leader. I pursued my passion for interior design by earning a degree from Adrian College.
With each project I take on, I still enjoy creating exceptional and pleasant living spaces for homeowners.
As a designer, I always strive to:
Create great kitchen designs
Provide superior customer service
Deliver on commitments as promised
The point is that when you work with a great kitchen or bath design company and designer, they're as excited as you are. We're here as passionate professionals to assist you by designing extraordinary spaces in your home that you can truly enjoy.
Think it all through during pre-planning.
Take a deep breath. Ahh…
There's a lot to think through, but together we'll figure out as much as we can ahead of time.
It reminds me of this Confucius quote: A man who does not think and plan long ahead will find trouble right at his door.
Or in our case, the kitchen.
Our goal during the pre-planning stage (there's an appointment for that) is to learn about who you are and what will make this design project a success. Everything else is built around that.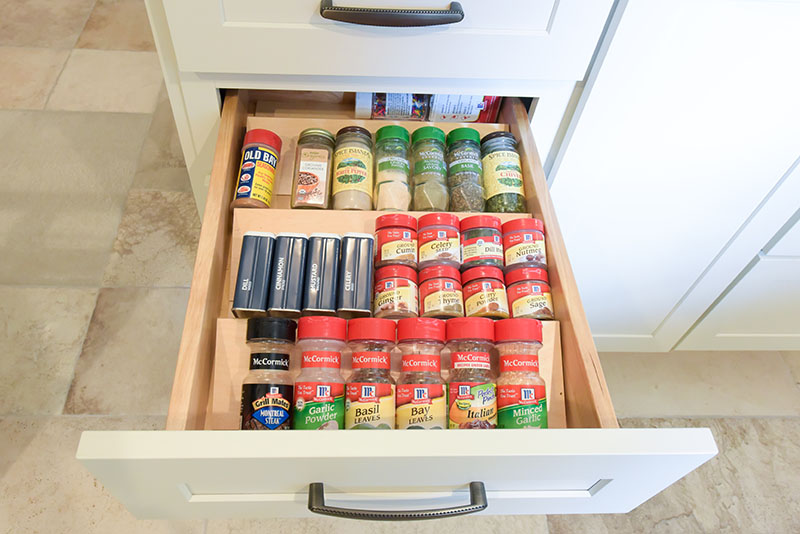 There are so many options to consider:
Like contemporary kitchen design elements?
Did a recent kitchen design trend catch your eye?
Or maybe you're all about white and grey for a cool, neutral look?
Let's talk. We'll figure it out together.
On to my example…
In this particular appointment, the client and I sat in her dining room and discussed her day-to-day family activities. (How you function plays a big role in finding the best design approach.)
As we talked, I noticed the unique antique items displayed in her home. She said she liked to refinish items and make them part of her living space.
This sparked an idea, which helped us choose a design style that worked for her — one that could go very well with the antiques that she had, but also one that was somewhat transitional in her space for a present-day feel. We landed on an Arts & Craft style of door (Sedona) with a Viatera, Intermezzo countertop.
Taking the time to think it through — who you are, what you do, how your living space reflects your life — helps get the project on the right track from the get-go.
Create and develop the design.
If there's one word for this stage, it's communication.
It involves narrowing down, defining, deciding — all the nitty-gritty details that need to be worked out. My goal at this point is to make sure that what it is shaping up to be makes sense for you, as well as aesthetically.
I created a document that laid out all the moving parts so that the customer and I could talk through each cabinet, along with any accessories. I also selected the items that would make up the paint color, floor tile, cabinet style and finish, and countertop finishes, along with the appliances and faucet/sink.
After the first presentation of the design, we went more in detail with our product selections. We had decided on the door style and countertop design, so at this point it was time to narrow down our selections for the project.
It's okay to still have questions — that's why we're meeting — but the good news is that we're working to clear up the uncertainties. We'll refine the details and make any necessary tweaks to make sure this project is moving forward and headed in the right direction.
And there's also a little wiggle room before we finalize the design if you still have reservations. But when you start seeing it all come together, you'll feel much more confident that the choices you made for your new design are the right ones.
The customer picked out a subway-style in sand beige to create a medium-size rectangular flow for the backsplash material, along with a beige double-bowl sink with a single pull-down faucet. An Italian-designed Royal Stone Luxor in Versaille pattern for the floor was carefully placed in the kitchen, laundry and hallway to continue our bold pattern through the house.
See how we tied it all together? I always love that part.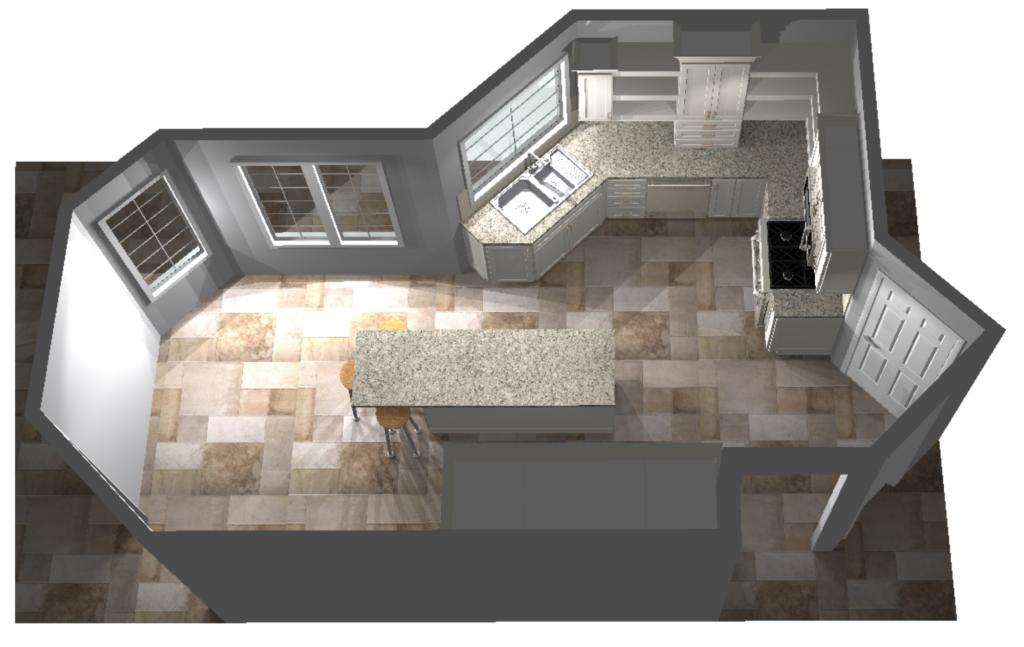 Finalize the design…
A lot of times, this is where customers freeze up. It's a mix of excitement and anxiety as if they're halfway across a tightrope suspended across the Grand Canyon.
Did I make the right design choices?
I always remind them to trust in their original intuition to take their living space to the next level.
Remember how confident we felt identifying the design style that showcases your personal style and your lifestyle? So as we review the design the last time before beginning the renovation, we can rest assured it's all coming together.
Your fear might be that we'll have to go back to the drawing board — more time, more money, more confusion — but in almost every single case, just a few tweaks are all it takes to make sure you're happy with the design.
In this particular kitchen design project, we made a few changes. One was to not do a dishwasher. In making this change, we placed a 24" cabinet in the location that the dishwasher was, with space to put a dishwasher in later if need be — a great example of planning for the best outcome for you!
(Kitchen Storage: Is There Ever Enough?)
We went through everything in detail and approved the final drawings. My contractor with whom I've done several projects came to the home to talk with the homeowners. They hashed out the project schedule and timing of everything so that things could go as smoothly as possible.
The positive excitement was building!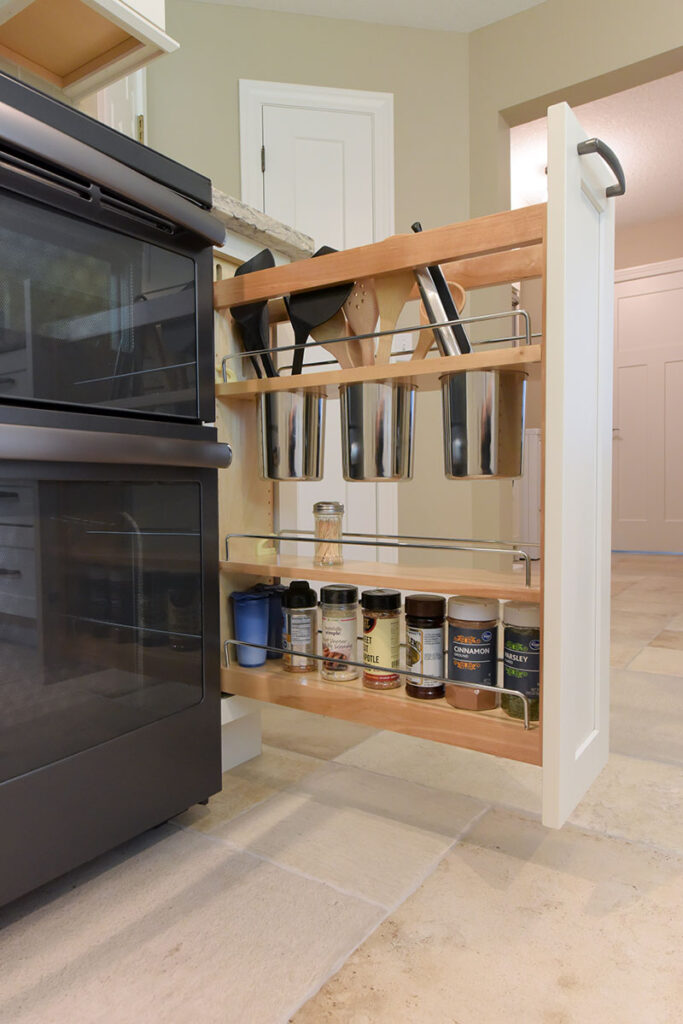 Prepare the space (and your mind) for renovation.
I've got a theory that the reason people love to play games — board games, video games, sports — is to enjoy the challenge of successfully putting a plan into action.
And the better the plan, the more likely it plays out successfully.
But there's another mental aspect that comes into play while the challenge is taking place.
Athletes, for example, are reminded by coaches to:
Have confidence in your choices — and your preparation thus far.
Get ready to cope with adverse situations.
Commit to the game plan from start to finish.
I remind my clients of the same things, honestly.
Be confident in the great plan we've put together! Sticking with our well-thought-out plan, even as dust is flying and your home is temporarily in progress, will help you persevere until you cross that finish line… so to speak.
So how was my client feeling at this point?
She was completely ready and full of motivation.
Like an Olympic athlete, she put a lot of time into prep and planning — so then it was just a matter of making it happen.
Before the installation process, everything was ordered and received. We seamlessly transitioned into the construction phase of the project, with everything taking place on the date discussed and with all items accounted for.
The renovation process went something like:
Demolition
Replacement of old plumbing, lighting and electrical
New drywall installation
New paint job
New flooring
Cabinet, countertop and backsplash installation
Did it get messy? Yes, that's to be expected. But like always, the installer made sure to do a comprehensive cleanup of the job site upon completion.
And to make sure everything was just right, the homeowners were given a walkthrough for a chance to get any remaining questions answered. When everything looked good — you should've seen the smiles on their faces — they started putting items away to get things back to functional.
In my opinion, the cherry on top was when they brought those antique items back out for display.
They were able to stand in a fresh, new kitchen that reflected their design style and their lifestyle, incorporating what they valued into one of their most important living spaces.
Custom living spaces built to suit you.
Let's say you're a homeowner in the Toledo area looking for a kitchen designer. Whether you moved, are building or just want to reimagine your kitchen, you might feel it's too much work with too much risk.
Is it worth it to embark on a new design project for your kitchen?
It is so worth it — as long as you work with your designer from start to finish:
Make sure you get to know them and they get to know you.
Put in the time to think through what will make this project a success.
Fire up your creativity to land on a design that captures your essence.
Prepare to commit to the renovation once the plan is in place.
Sigh a big sigh of relief as you enjoy your custom living space designed by you, for you.
Imagine. Create. Transform.
Kitchen Design Plus doesn't just design and remodel kitchen and bathrooms — we help you imagine the possibilities, then bring it to life. With over 55 years of experience, we have the expertise, creativity and innovation to make your dream living space a reality.
Contact us today by calling 419.536.6605or messaging us at Info@KitchenDesignPlus.com
---
ABOUT THE AUTHOR
Faith Cherry
Designer/Sales
Faith has been in the cabinetry and building products industry for over 20 years with both a kitchen and bath design firm and with a major cabinetry brand manufacturer as a product design and development leader. She pursued her passion for interior design with a degree from Adrian College, MI, and still enjoys creating exceptional and pleasant living spaces for homeowners where builders and remodelers can be the champion.