So you're about to embark on a kitchen remodel project. You've searched all around the Internet for the hottest kitchen trends. Maybe you've flipped through your HGTV and Better Homes & Gardens magazines and considered what the experts are describing as the best looks in kitchen design for 2018.
But you're still unsure what type of design really works. You want something that stands the test of time. Then again, What makes kitchen designs timeless? After all, trends in every industry disappear as fast as they first showed up. What looks good today may not be so hot tomorrow. With a remodel project, you get what you pay for, so why pay good money for a kitchen style that could go out of fashion in the next year or two?
Timeless Trends for Your Toledo Kitchen Remodel
Believe it or not, trends can be timeless. Think about kitchens in the 1920s. We're talking a century ago, but you'll find what quite a few modern kitchens currently have. Subdued neutral colors. Farmhouse sinks. Glass door cabinets. Quartz countertops. It's not so much about when it was first popular, but about how it functions — in other words, it works just as well as it has in the past. So when a kitchen design style comes back around as a trend, what's really happening is kitchen designers are acknowledging how its fashion and function still fits in with people's lifestyles. If people over several generations keep coming back to certain kitchen styles, you know it's got to be good.
The Timeless Cabinet
Kitchen cabinet design and selection is, more often than not, the first order of business once you've chosen professional kitchen remodelers in Toledo you trust. There are two reasons for this:
When you walk into the kitchen, you see the cabinets first, so they'd better look good. (They occupy the space from waist to eye level!)
In the heart of the home, you need lots of practical, usable storage. You're in here daily.
To stand the test of time, you want to choose kitchen cabinets that go well with other architectural styles your home may have, like the floor, ceiling and doorways. You also want to choose natural and neutral colors. That way, you'll enjoy the traditional kitchen design for years to come. The Shaker cabinet style, in all its simplicity, is the perfect choice for a timeless kitchen remodel. Talk about aesthetic. And its pricing is quite reasonable — probably why it's consistently a favorite of Toledo kitchen designers (like us!) and Toledo-area homeowners alike.
Learn more about our cabinet selections.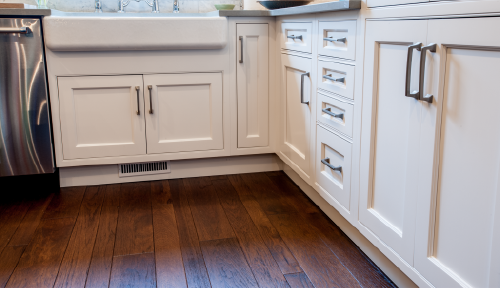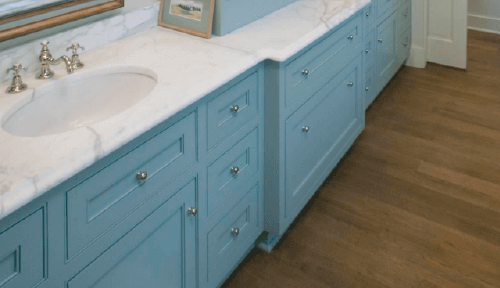 The Timeless Countertop
You want a surface that stands the test of time and always looks good? Quartz is both durable and luxurious. And it marries well with other timeless kitchen design features like silver, brass or gold hardware (like handles and drawer pulls on your cabinets) and accents.
A few other benefits to installing quartz countertops for a timeless look:
Low-maintenance: The non-porousness mix of natural stone and synthetics eliminates surface gaps, making quartz stain-resistant, anti-microbial and easy to clean.
To bead or not to bead.Platinum face frames may include a bead to enhance style profile.
Heat-resistant: Quartz won't warp in heat up to 204 degrees Celsius — but just to be safe, always use a pad or trivet for hot objects.
Multiple color options: A traditional yet timeless look is simple with quartz: there are a variety of beautiful neutral colors to add a sense of subtlety and charm to your kitchen.
Learn more about our countertop selections.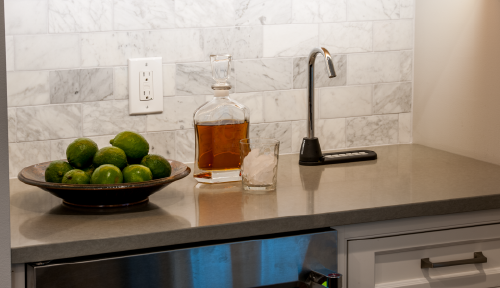 The Timeless Backsplash
The backsplash ain't just for splashes anymore. Nowadays, it helps tie the room together, to set the tone. A perfect way to indicate your sensibility. The subway tile, now a staple in classic American kitchen and bath design, made its debut in the early 20th century in New York. This ceramic tiling, usually in a neutral like white, is minimal, clean and sophisticated. But it's also extremely functional: it can run horizontal or vertical, it's super easy to clean and it will last a long, long time. And subway tile backsplashes go with everything. Go ahead and try it out with the Shaker-style cabinets or quartz countertops. Instant classic choice for your kitchen backsplash.
Learn more about our tile backsplash selections.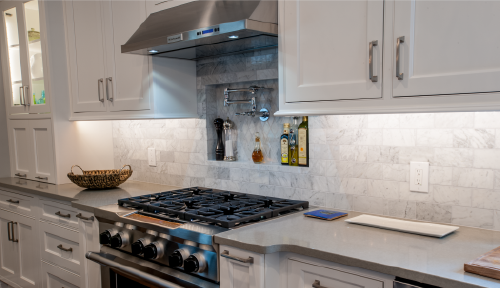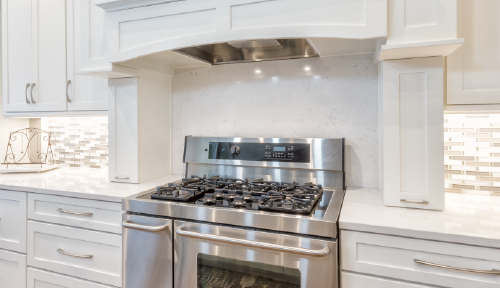 Imagine. Create. Transform.
As the best kitchen designers in Northwest Ohio, we'd love to make your design dreams a reality. Give us a call at 419.536.6605 or send us a message to get started on your next kitchen or bath remodel!