What no one wants to think about when remodeling — but should.
Nobody said remodeling was going to be easy. To tell you the truth, parts of it can get downright ugly — especially if you skimped on planning and prepping. But if follow the process and have realistic expectations, you'll get your dream living space, maximizing "good" and minimizing "bad and ugly."
Nothing good comes easily, especially in kitchen design.
"Nothing good comes easily. You have to lose things you thought you loved, give up things you thought you needed."
This quote from author Shauna Niequist is about life in general, but you could just as easily apply it to kitchen remodeling:
It can be rather difficult sometimes.
You have to distinguish your needs from your wants.
It feels a little like self-help, doesn't it? I'd say that's exactly what it is. I'm trying to arm you with the tools you need to survive your kitchen renovation — the good, bad and ugly — so you can enjoy the beautiful living space you're hoping to achieve!
And to do that, we've got to consider the big picture… not just the fun parts.
It's about being realistic. Yes, there can be frustrating moments just as much as there can be joyful ones. But when you go into the design process fully understanding that nothing is "the end of the world," it'll make that light at the end of the tunnel a little bit brighter.
"Nothing good comes easily. You have to lose things you thought you loved, give up things you thought you needed."
Think of the design process like taking a flight.
Now, a number of people are at least a little scared of flying (estimates show 20–30% of Americans) and some are downright petrified (2–10% fit a phobia classification).
And then you've got millions upon millions of people who drive their cars to and from work, to and from the store, to and from vacation spots across the country, without a second thought.
Did you know that you're 19 times safer in a plane than in a car?
It's all about reframing your perception.
Yes, flying can be extremely annoying at times. The excessive downtime at the airport waiting for your flight or your baggage. The guy in front of you reclining his seat back into your space. The baby crying its eyes out a few rows back. The outrageous price for a small coffee.
And that turbulence.
But to paraphrase a comedian, you're literally sitting in the sky! Flying through the clouds! How magical is that? Not to mention, you've got a skilled pilot taking you where you need to go.
That's why I like to think of the design process like taking a flight. It's totally worth it to get to your desired destination — bumpiness and all.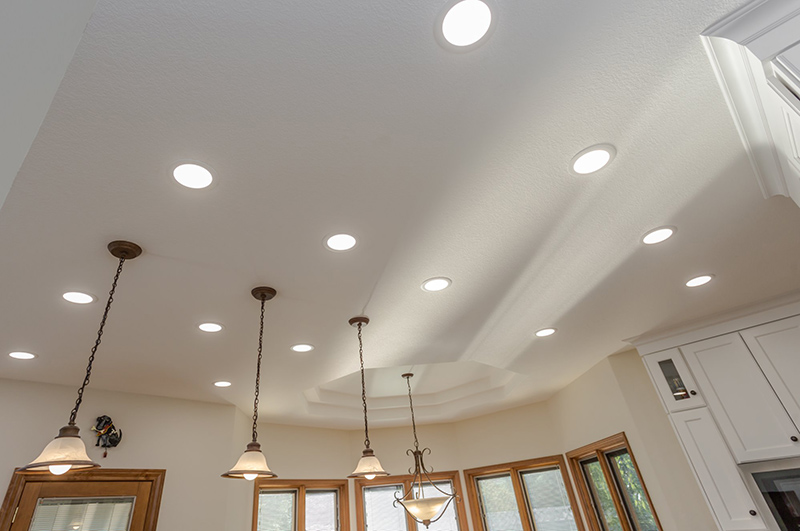 The Ugly
Sorry, Clint Eastwood, but I'm going out of order. The reason why? I want to get right to the heart of the matter, to the stuff nobody wants to think about when they're kicking off their kitchen renovation project.
In my years of experience as a kitchen designer in Toledo, I've seen it all. But this kitchen design horror story is one I won't forget:
A woman who was a homeowner here in Toledo wanted to renovate her kitchen, so she went to a big-box store (which shall remain unnamed). However, their services didn't include the demo and install — instead, they gave her a list of recommended contractors for hire.
She went down the list, calling each one.
First one — no answer.
Second one — "We're sorry. You have reached a number that is disconnected or that is no longer in service."
Third one — his schedule was full for the next 6 months.
Finally, on the fourth try, someone picked up. He offered a reasonable price, so she was in.
She took off the day he was scheduled to start, but of course, he didn't show up. His reason when she got ahold of him? "Something else came up."
He rescheduled for the following day, and when he arrived he began the demo. By the early afternoon, he was about halfway done. He abruptly took off and didn't return. When she called (repeatedly), he never picked up.
The big-box store manager just shrugged when she asked what she was supposed to do about it. Ugh!
I must add, though, that it's always darkest before dawn. Her next step, calling Kitchen Design Plus and getting a reliable kitchen firm to take on the project, turned things around. What started as a nightmare ended with a dream kitchen come true.
My goal with this blog is to help you prevent the nightmarish situations, navigate the not-so-good parts of the process and experience the bliss of a beautiful kitchen in your near future!
It's not always as ugly as the above story, though a lot of homeowners do fear they'll have a disaster on their hands when they're considering a kitchen remodel. And it makes sense why they're so anxious, since, besides buying a house, the kitchen is usually the biggest investment you'll make.
Get it wrong, and you'll have issues, plain and simple.
BUT…
As designer Chris Larkin puts it, "Get it right and you will add great value to your home and change the way you live for years to come."
So like I said, it doesn't have to be ugly — but even with the best of projects, it's not always a walk in the park.
If we're being wise and realistic, we'll take the time to consider the ins and outs of the kitchen remodel process from beginning to end.
"Get your kitchen remodel right, and you will add great value to your home and change the way you live for years to come."
Doing so will help you prevent the major mishaps and overcome the expected unexpectedness that is inherent to any big-investment renovation of your home.
Cost
You know what's the most common thing potential customers tell me when I do consultations? They don't know how much a kitchen is supposed to cost.
This is where you can get into trouble. If you don't know how much you should spend, it's really easy to overspend.
Good news is, a good kitchen can be designed within any budget. You just need to know what that budget is first before you plan.
As I said before, remodeling your kitchen is a big investment. So consider the following numbers before you commit to a project. That way, you can set a reasonable budget and keep the overall cost within it.
According to Home Advisor, the average kitchen remodel costs $150 per square foot, and most homeowners will spend between $75 and $250 per square foot. But it all depends on your space's size, the quality of materials and how much you change up the room's layout.
And remember that a remodeled kitchen has the biggest payoff. You get to enjoy a beautiful, well-designed eating and gathering space with your family and friends for years to come. If you sell, it'll boost your property's resale value. It's a win-win.
On that note, the rule of thumb is to spend 5% to 15% of your property's total value if you are looking to recoup. If your goal in remodeling is to resell in the near future, you shouldn't necessarily splurge. But if you're sticking around — by all means, customize it to your family's needs and wants, since you'll be the ones to enjoy it.
Time
Home reno shows on TV skew our perception of how long a quality remodel takes. Without so much as a blink, we see a house go from beastly to beautiful in under an hour.
If you're not careful, you'll witness multiple magical transformations back to back. How wonderful!
But not realistic.
So how long should a kitchen remodel take?
Well, like all complex processes, it depends on:
The scope of your remodel project
The availability of needed materials
The design's requirements
Replacement kitchens, where you're basically new components to replace the old, are generally quicker. Similar past projects have run between 6 and 8 weeks.
Custom renovations, which may involve structural and layout changes, will take more time.
When you work with a reliable, capable kitchen design firm, you'll build your project around a schedule. But even then, you've got to prepare for the unforeseeable delays. Those little bumps in the road will happen from time to time. If you went into it as flexible as can be and you've got a built-in time cushion, the show will go on.
Mess
I'll just cut right to the chase here: Choosing the right kitchen design team is essential. It can be the difference between mostly smooth and out of control.
Even then, there are things you just can't avoid, like dirt, dust and loud noises. But hey, you're renovating one of the most important rooms in your room, not baking a cake!
Construction is messy by nature. Especially when you're dealing with drywall removal and demolition.
We'll prepare your home for the messy bits, but remember also to prepare your mind. It can be unsettling to see your home in pieces for an extended period of time. That's why we make a comprehensive plan before we even lift a hammer — so we can monitor the progress from day to day and get you on your way to a transformed living space.
In one of our recent blogs we gave some additional advice for what to do when your kitchen remodel is in progress, so please take a look (and bookmark for future reference) when you get a chance.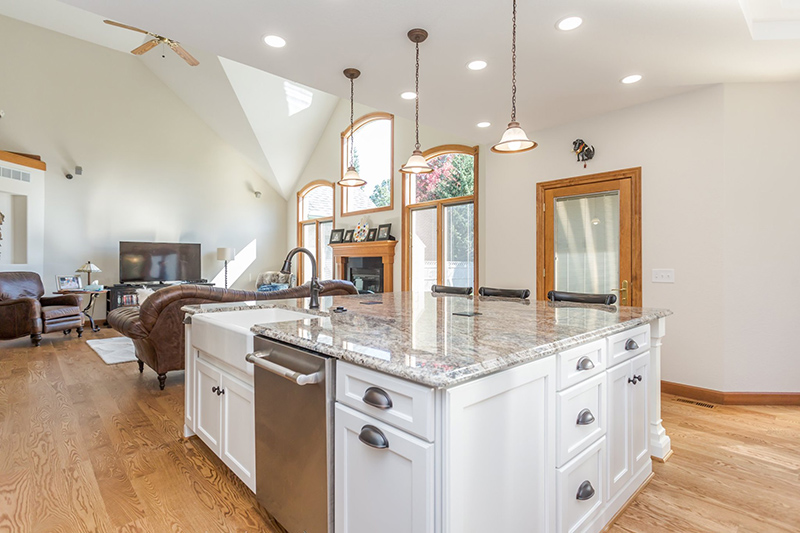 Decisions
From day one to "done," here are two things you shouldn't forget:
While designers have years of experience, knowledge and know-how to give you great advice, it's your kitchen — not theirs.
You're not alone, you're not solely responsible for the success of your kitchen remodel; you've got a dedicated team of Toledo kitchen design professionals on your side who are passionate about doing exceptional work!
As that starts to sink in, go ahead and read those again. (I'll wait.)
Go ahead and let out a sigh of relief knowing that the weight of the project isn't on your shoulders only. We're in this together.
But I'll be real with you. Before your dream kitchen can come true, there are questions to ask and answer. There are some decisions you have to make. And you can't rely on salespeople to tell you what you need or want, especially if they're not experienced in kitchen design or construction.
So if you're reading this, good for you for doing the research into quality kitchen designers in Toledo.
In short — you've got the power, and if you choose to go with Kitchen Design Plus, we're here to support you all the way to the finish line.
The Good
So we've looked at the bad and ugly of kitchen design, and now we're ready to think about the good… the part that's the reason we love kitchen remodeling!
Increased Value
There's a chance down the road you might move out of this house into another. Could be next year, could be a decade from now — either way, remodeling your kitchen (or bath or any room) can raise the market value of your property. Especially if you follow timeless best practices of design.
In other words, you can actually make more off your kitchen remodel than what you put into it. It's certainly not a guarantee, but it's also hard to deny that a freshly renovated and remodeled kitchen is much more attractive (and valuable) than an old, outdated one.
So whether you're remodeling to resell for a better return or you and your family just want to enjoy a well-designed, beautiful kitchen, remodeling is a great option.
Better fit for your lifestyle
The thing I absolutely love about kitchen design is that you can personalize your living space to exactly who you are and what you need.
Moving into a home, you may notice that the kitchen's layout doesn't really work for you. Here's the thing: It may have totally worked… for the previous owner. Now that you're here to stay, you have every right to reconceptualize what the heart of your home should be.
Family breakfast together?
Paying bills?
Helping with homework?
Entertaining friends?
Every family functions differently. You'll spend a lot of time in your kitchen, so making sure it matches not only your design style but your lifestyle is key.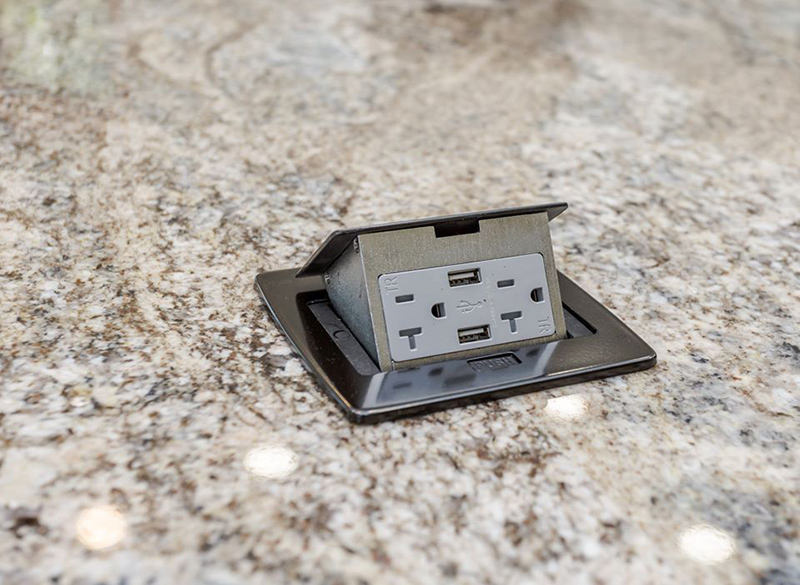 Improved Quality
If they're honest, a big driver for some homeowners' renovations is simply changing things up. But even if a facelift seems to be the underlying goal, I always find ways to actually improve the quality of the space.
Sometimes it's the little things that add up, like cracked tiles, deteriorated cabinetry or out-of-date appliances. Not only are these unsightly, but they can be a detriment to the function of your home.
No matter what the issues in your current kitchen are, big or small, we can find ways to add value and up the overall quality for a living space you'll enjoy for years to come.
More space, more function, better quality — not just meeting but exceeding customers' expectations.
Besides, who doesn't love a beautiful new kitchen?
Ready to give your Toledo kitchen the remodel it needs? Start here.
Kitchen design is a lot like life. There will be a number of things you can't control. But the overall outcome can be beautiful with the right mindset, a well-developed plan and reliable support.
A wise man once said, "To bear trials with a calm mind robs misfortune of its strength and burden."
Those little unavoidable hiccups, like unforeseen damage and expense, minor timeline changes, etc.? You don't have to let them discourage you.
The preventable problems can be prevented if you have a qualified person to manage your design and project from start to finish. Anything else that comes along isn't the end of the world, either. We'll expertly maneuver it and keep your project moving forward in a positive way.
Imagine. Create. Transform.
Kitchen Design Plus doesn't just design and remodel kitchen and bathrooms — we help you imagine the possibilities, then bring it to life. With over 55 years of experience, we have the expertise, creativity and innovation to make your dream living space a reality.
---
ABOUT THE AUTHOR
Mary Sines
Designer/Sales
Mary is a designer who loves working on vastly diverse projects, both large and small. An honors graduate in Interior Design and Graphic Design at Davis College in Toledo, Ohio, her projects range from commercial and residential design; specializing in kitchen and bath design and space planning.
With over 16 years in the kitchen industry, she understands the need for individuality and quality finishes in a home. Mary prides herself on working closely with her clients to achieve the highest standards of design and craftsmanship.