What's one of the essentials of a successful kitchen remodel? Having a well-made design strategy — and thinking through all the details before you jump in. We show you how to come up with a solid wish list to help you reach the project finish line with a smile.
Wow! I just sat down and figured out how many years I've been in this kitchen design profession, and I came up with 30-plus crazy years.
But honestly, I can still say that I get up every morning looking forward to my busy workday — I love every minute of it. I'm lucky to have a job where I can be so creative, where I can bring every aspect of that creativity to life for my clients.
A big part of why I'm still in love with kitchen design after all these years is because I've realized that being detail-oriented gives me and my clients the power to make each project a success.
Putting together a wish list helps us start the project on the right foot. And that process requires us to identify what you really want — and don't want. Being deliberate and detailed in our planning can help ensure we achieve your vision for your kitchen.
Prioritizing your kitchen wish list… without missing anything
I always tell each customer:
This is your kitchen.
I'll come up with a great design, but first we are going to create a wish list for your kitchen — together.
That way, we can incorporate all of the things you have dreamed about having in your new kitchen.
This is how we can increase the chances that their dream kitchen becomes a reality. This process is also why I'm much more likely to have a happy customer and get referrals.
So what kind of things would you love to see in your kitchen? A particular sink or backsplash? Maybe a breakfast nook or high-quality appliances? Oh, and how about cabinet door style, color, wood species, trims and accessories?
It's tough to narrow down your list, but learning exactly what you want, and communicating that to me, will help smooth out the process early on — and when it comes time for installation.
Here are a few super useful tips for pulling together your wish list for an accurate and efficient install.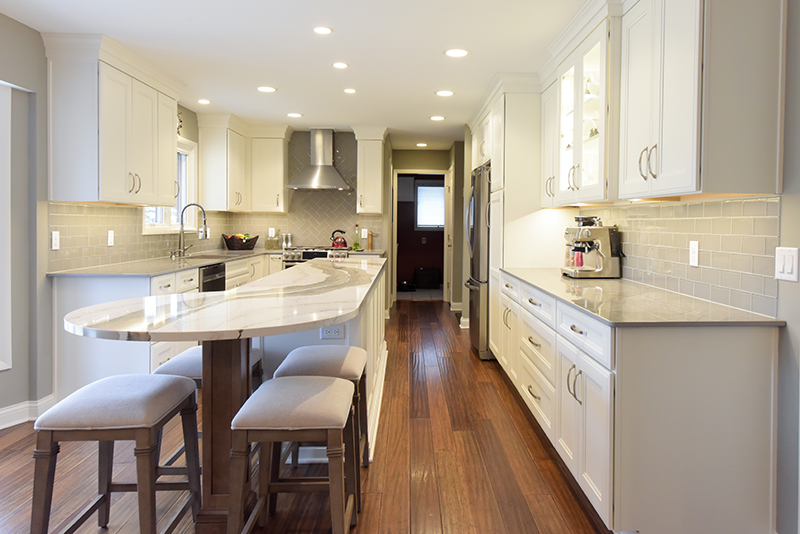 Browse websites and magazines for inspiration.
You've probably heard the quote attributed to Picasso that says "Good artists borrow; great artists steal."
When it comes to beautiful design, the best ideas are always based on previous good ideas.
Remember the wacky psychedelic posters from the late 1960s? Those wavy, fluid lines, floral patterns and exotic, over-the-top decorative stylings were based on the curvy, nature-inspired look of Art Nouveau, a style from the previous turn of the century.
"Every great design begins with an even better story."
— Lorinda Mamo, designer
Even something as distinctive as the design of the Lincoln Memorial in Washington, D.C. has its roots in Classical Greek and Roman architecture.
So there's nothing wrong with taking notes from designs that inspire you. In fact, you'll be better off because of it.
You'll learn so much, and your final design will show off your own unique sense of style — your design choices will tell your story.
What are the best resources for kitchen design inspiration?
Nowadays you can travel far and wide from the comfort of your own home, right in the palm of your hand. Pick up your cell phone and you'll soon be swimming in loads of design inspiration — everything from before & after photos to walkthroughs of dream living spaces.
It doesn't really matter where you find your inspiration. Clients often find photos and videos through:
Google Images
Facebook
Instagram
Pinterest
Houzz
YouTube
Some clients prefer to make a physical mood board with cutouts from magazines like:
House Beautiful
Beautiful Kitchens
Traditional Home
Homes & Gardens
And plenty more
Really, the options are endless. But just make sure you're staying organized.
If you're making that scrapbook, consider separating the bathroom and kitchen photos. Also, if any clippings are specific to one design aspect (paint color, cabinet style, etc.) think about keeping the different design components separate, too.
If you're surfing the net to get inspired, save the links to pages or blogs where you found something you really liked. Or if you're on your phone, you can even save photos or screen-shot from sites or apps if you want a swipe file — a photo album that can serve as a digital mood board. (Just make sure you're organizing those as well.
Get Inspired by Kdp
Surprise, surprise! We love kitchen design so much that we blog about it.
Here are several of our past blogs from our designers that'll help you do research into different styles, trends, materials and more for your remodel project.
Styles and Trends
Other Design Ideas from Kdp
Acquaint yourself with brands and materials, and compare features.
As one of the most frequently used rooms in your home (at least while you're awake), your kitchen deserves to become a place you and your family enjoy.
But the best kitchen doesn't just look great — it functions great, as well.
That means when you consider brands, materials and features for your project, you want to prioritize quality and functionality that fits with your style.
"Design is not just what it looks like and feels like. Design is how it works." — Steve Jobs, co-founder of Apple, Inc.
There's a lot of research you can do online, but nothing beats checking out brands and features for your main kitchen or bath components in a showroom.
Here at Kdp, we've got just that showroom, with exquisite examples of everything you need for your project:
Kitchen cabinets
Tile
Countertops
Appliances
Lighting
Flooring
Plumbing
And more
One of our designers can walk you through and answer any questions you have — and you can take notes!
See our showroom's open days and hours, as well as our address and phone number, on our Contact page. Also, for your convenience, we offer after-hours appointments.
If you want to get a sneak peek of our showroom, check out our Virtual Showroom (which is open 24/7).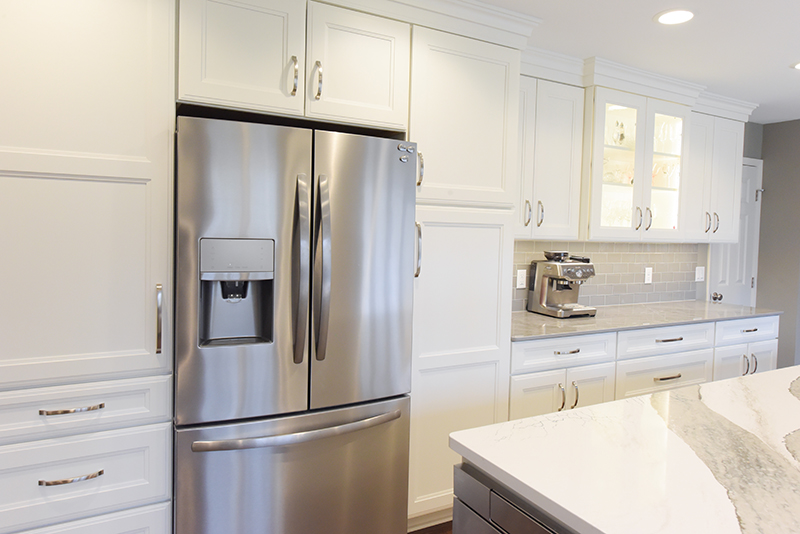 Kitchen and bathroom cabinet brands
There are a heck of a lot of brands for kitchen and bath cabinets out there. So how do you know which ones are best?
As a design company that cares about providing long-lasting value to our clients, we've partnered with a select few brands known for the finest craftsmanship, with a variety of beautiful, customized options in the style and finish you need.
Kith Kitchens
Grabill
HomeCrest
Medallion
Get more info from our blog, 5 Fabulous Kitchen Themes Featuring HomeCrest Cabinets.
Learn more on our blog, 7 Cabinet Styles from Medallion to Inspire Your Kitchen Redesign.
Make 2 lists: "need-to-haves" and "nice-to-haves."
With all the inspiration you'd ever want at your fingertips online or in magazines, you might feel like you have to find ALL the best photos and videos to show your designer.
But let's be real here. You can spend days scrolling through millions of beautiful kitchen and baths — it never ends!. This is where you have to make some decisions based on what is right for you: your budget, your space, your style.
The easiest way to get on track is to ask yourself 2 questions:
1. What do I want to have?
2. What do I need to have?
Framing your next kitchen remodel project this way will automatically cut your miles-long list down to a short list that is actionable and (most likely more) affordable.
To get a clearer picture of what those needs are, I suggest going through some of our blogs that cover the basics of kitchen and bath design. Toledo-area clients have mentioned they found these ones particularly helpful when identifying their "need-to-haves."
Kitchen Basics
Bathroom Basics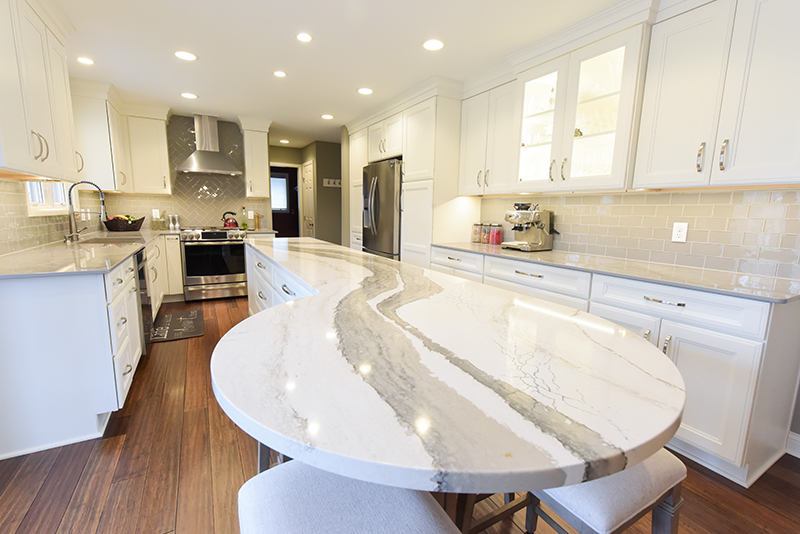 Don't rush your decisions.
No offense to Chip and Joanna or the Property Brothers. But as fun as reality home-renovation TV is, it doesn't show the full picture of what a home reno project is like.
Kitchen design doesn't really happen in an hour. Ask any kitchen design professional in Toledo — or anywhere, for that matter — and you'll find out the amount of time that goes into completely transforming a physical space that starts with an idea.
The kitchen design process takes time.
Professional kitchen designers will help you:
Brainstorm the overall project scope.
Identify the right style and design direction.
Determine the kitchen layout.
Figure out the right appliances and materials.
Visualize the remodel with a 3D design program.
Line a contractor up for the project.
Order all materials needed.
Oversee the work to make sure it's according to plan.
Keep things within the proposed budget.
Having somebody at your side walking you through all the decisions, complications and unforeseen circumstances, providing expertise and support along the way, will certainly reduce a lot of the stress that is likely in any kind of renovation or remodeling project.
Most importantly, they'll teach you that patience is a virtue. When I'm working with a client, I like to reassure them that I've been here before, and that if we have a plan in place, we can succeed.
Remodeling your kitchen or bath is a process. It takes time. So when you're faced with choices — Traditional or contemporary? Quartz or granite countertops? Shaker-style or decorative cabinets? — just remember to pause, breathe and trust.
Trust yourself. You've done the research, you've vetted your designer, you've parsed out your needs versus your wants.
And trust your designer, assuming you did vet them (never commit unless you have). If they're like Kdp designers, they're certified, experienced, passionate and in your corner. They're here to help you make the right decisions.
Hire a certified pro kitchen designer in Toledo to help.
Sure, you could go to a big-box retailer.
But would you rather sort through readymade, overpriced solutions from inexperienced designers? Or would you rather get personalized, expert assistance from someone who specializes in custom kitchen and bath design projects?
Like I said before, This is your kitchen, your bathroom, your living space. If you value your home, you might consider putting in the extra time to choose a designer you can trust.
To help you find the right designer, check out 2 of our recent blogs, How to Choose a Professional Kitchen Designer and How to Work WITH Your Kitchen Designer to Get the Living Space You Dreamed Of.
Here at Kdp, we love working with homeowners all across Northwest Ohio to imagine, create and transform their homes. We're in this together, and together we'll make your dream living space a reality!
Imagine. Create. Transform.
Kitchen Design Plus doesn't just design and remodel kitchen and bathrooms — we help you imagine the possibilities, then bring it to life. With over 55 years of experience, we have the expertise, creativity and innovation to make your dream living space a reality.
Contact us today by calling 419.536.6605or messaging us at Info@KitchenDesignPlus.com
---
ABOUT THE AUTHOR
Valerie Waterman
Designer
Valerie joined the Kitchen Design Plus team with more than 33 years of experience in the kitchen and bath industry. Her flare for design and pleasant personality makes a remodeling project a wonderful experience for her customer.
She's even had the rare opportunity to have her own business in Las Vegas, NV. With that knowledge, she understands all the fine-details that go into a project from start to finish. Her unique ability to listen to the customer and interpret their desires into reality is key to her success.
In her spare time, Valerie loves gardening and traveling to the Pacific Northwest to visit her children.